Teams integration
Teams is a the well known collaboration suite from Microsoft used by companies for messages and video calling.
EZAlert.me can easily post all the notification received from one of its channels to Teams using Teams webhooks.
To set it up, enter Teams, and select the three dots menu near the team you want to receive alerts into. Select "Manage team" option.
Once you are in the team config page, select the App tab and verify that there is an app named "Incoming Webhooks app". If that app is not in the lista, use the Add App button to add it.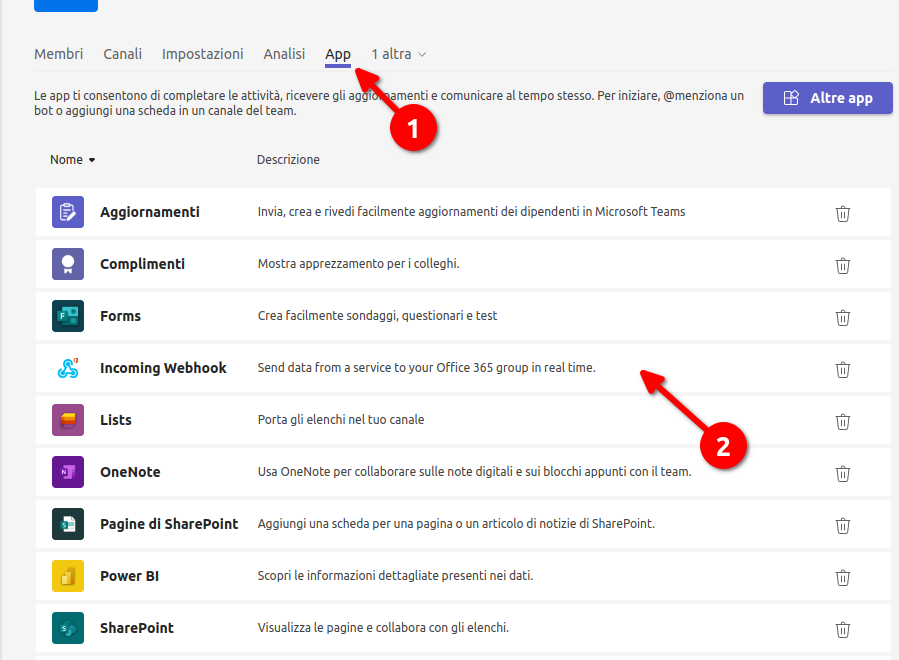 Once the Incoming webhook app is in the team, select the tgree dots menu near one of the channels of the team and select "Connectors" option.
Locate the "Incoming webhook" connect and click on the Configure button to show up the configuration wizard.
Give a name to the channel and if you want you can change its icon, then click on "Create".
Once the webhook is created you will get a URL, copy it, then login to EZAlert.me and select the channel you want to connect to Teams. Then click on the Webhooks button and select "Add Teams webhook" menu option.
Paste the Teams webhook URL in the modal. 

Add a name to remember what the hook does and save the configuration.
Now each notification sent to this EZAlert.me channel will be echoed to your Teams channel.