How to get a notification for new orders on Prestashop
If you operate an online Prestashop store and wish to receive instant notifications on your mobile phone or through various messaging platforms like Teams, Slack, Discord, Skype, or Telegram for every new order placed, EZAlert.me is the solution for you.
EZAlert.me simplifies the process of sending notifications by using email channels. Each EZAlert.me channel is associated with an email address, and any email sent to that address is distributed to all subscribers of the channel. Subscribers can receive these notifications through Skype, Telegram, Facebook Messenger, or even utilize webhooks to forward messages to a Slack channel. For more detailed instructions, please refer to the "Getting started with EZAlert.me" tutorial.
In a nutshell, EZAlert.me acts as a bridge, converting emails sent to your channel's Email Gateway into notifications delivered to your preferred messaging platform.
Here's how to set it up:
Obtain Your Channel Email Gateway Address:
Start by logging into your EZAlert.me account. Navigate to the channel configuration page and locate the "Email gateway address" by clicking on the "Config" button and selecting the "Email gateway" menu option. This email address will be in the format XX-YYYYYYY@ezalert.me.
Configure Prestashop:
Once you have your email gateway address, proceed to configure your Prestashop store. You can achieve this by installing the "Mail Alerts" module, which is a free module provided by Prestashop.
Module Configuration:
After installing the module, configure it to send an email to the email gateway address of your EZAlert.me channel for each relevant event you want to be notified about. For example, if you want to be notified of new orders, enable this alert in the module's settings and set the email gateway address as the destination.
In this image you can see an example configuration.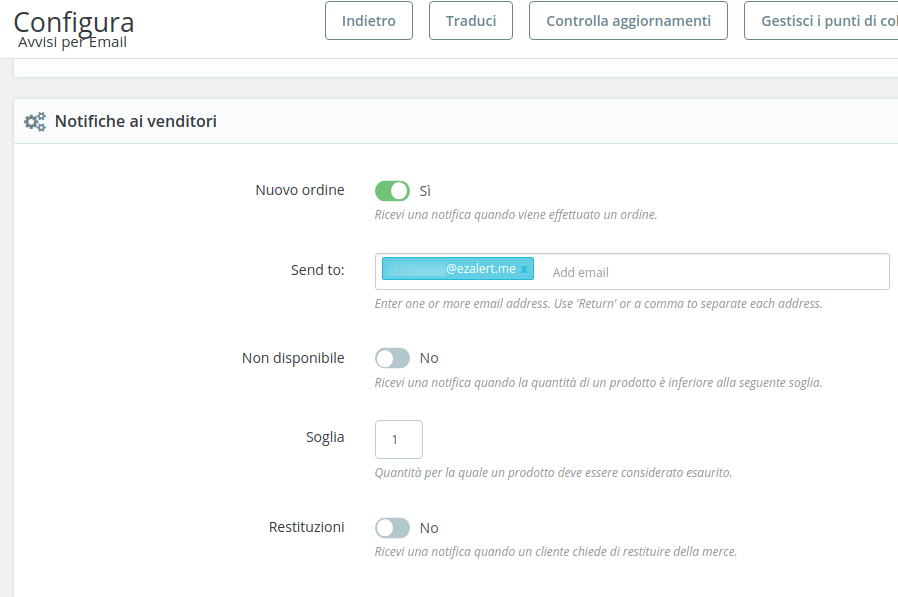 With this setup, whenever a new order is placed in your Prestashop store, Prestashop will send an email to the EZAlert.me channel's Email Gateway address. EZAlert.me will then relay this email as a notification to your chosen platform, whether it's Telegram, Skype, Slack, or any other media you've selected. This integration ensures you stay promptly informed about new orders and can manage your online store efficiently.
For more information about EZAlert.me Email Gatewy please refer to this document.