EZAlert.me offers a simple API to send you alerts via instant messages.
If you are not yet registered, subscribe to EZAlert.me service here.
Then create a EZALert.me channel and get the channel "API key" from channel details page, as illustrated in the below image.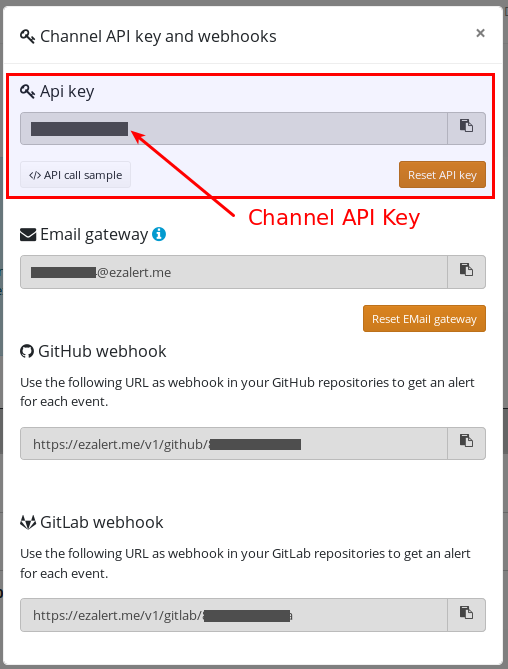 You use channel API key to send messages to your EZAlert.me channel.
A channel is like a distribution list. You can have many people subscribed to a channel with various instant messaging apps.
Here follows a sample of a CURL call to EZALert.me API to send an alert message to a channel:

curl -X POST 'https://ezalert.me/v1/sendAlert' \

    --data-urlencode 'apikey=YY-YYYYYYYYYYYY' \

    --data-urlencode 'text=test alert'


Please replace the YY-YYYYYYYYYYYY with a valid API key.

If you prefere you can use a HTTP GET call, like in the following sample:

curl 'https://ezalert.me/v1/sendAlert?apikey=YY-YYYYYYYYYYYY&text=test%20alert'

Please note that 'text' parameter is urlencoded.

The above examples would generate an alert that can be received, for example, in Skype:


This kind of API call is pretty simple and can be used with any programming language.
EZALert.me API will always reply with a JSON which contains the field status that can be 'OK' which means that the alert request has been correctly received, or ERROR in the case something bad happenend. In the latter case you can get some details about the error from the error field.
If you need examples about how to use EZAlert API with various languages or platforms, please have a look at EZAlert.me GitHub.