EZAlert.me can send alerts to Skype
EZAlert.me is a simple service that can send alerts and messages from your software to your favorite istant messaging platforms, including Skype. And it does it in a simple and effective way.
Follow this step by step guide to configure EZAlert.me.
Get your channel start code
Within EZAlert.me system you can create one or more channels. Each channel has an ID named "start code". If you have not yet registered to EZAlert.me you can register here. It's free!
Log-in EZAlert.me and select one of your channels, you can see its start code.

You use start code to say to EZAlert.me bot wich channel you want to receive alerts from.
Add EZAlert.me Skype bot to your friends list
Now that you have your channel start code, you need to add EZAlert.me Skype bot to your Skype buddies list.
You can do it by searching Skype contacts for "EZAlert.me". Or you can add it clicking this link: EZAlert.me Skype bot
Tell bot about your channel
Once you connected EZAlert.me Skype bot, just send it a message containing the word start followed by your start code to let it know which is your channel.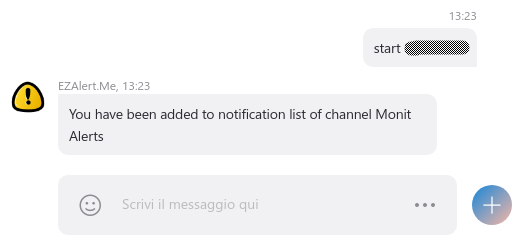 You are done: every alert sent to your EZAlert.me channel will now be forwarded to your Skype account!
Have a look at EZAlert.me API documentation to get info about how to use the API to send instant messages through your EZAlert.me channel.