Would you like to receive an instant notification as soon as something happens on your QNAP device? EZAlert.me allows you to do it. QNAP devices can send an email when a relevant event happens. Use EZAlert.me Email Gateway service to forward those messages into instant messages alerts.
What is EZALert.me Email Gateway?
Each EZAlert.me channel has a email address. Every email sent to that address is transformed in an alert and distributed to all subscribers of the channel.
First of all you need to find the email address of your EZAlert.me channel, so login to your EZALert.me account, go in the channel configuration page and get the "EMail gateway address". The address is usually hidden, just click on the "View/Hide API key" button to show it. It is an email address in the form XX-YYYYYYY@ezalert.me.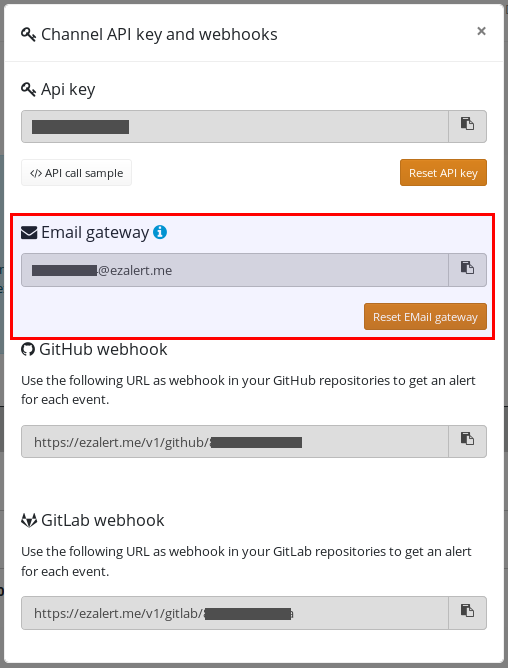 Now you have to use that email address in your QNAP config as alert email destination and you will get qnap errors via EZAlert.me instant messages.
To do it you can use QNAP email alert notification instructions here
Access to your QNAP configuration panel and open System Settings applet. Select Notifications on the left menu and then click on "Alert Notification" tab. Insert your EZAlert.me channel Email Gateway address into the "E-mail address 1" field. Then click the "Send Test E-mail" butto to test it.
If you can't receive the message, it's possible you need to configure a SMTP gateway on SMTP Server page of QNAP Notification configuration. Set it to your internet service provider SMTP address. If you are in doubt you can use EZAlert.me SMTP gateway, but please note that it will only work for EZAlert.me emails and it will not forward emails to addesses out of the @ezalert.me domain. EZAlert.me SMTP gateway address is: mail.ezalert.me .